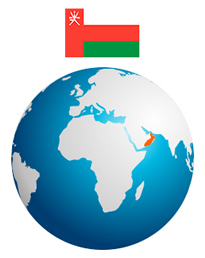 LIVEABOARD HOLIDAYS IN OMAN
One of the highlights of exploring these virgin islands is the opportunity to dive with Humpback Whales! This unique opportunity to dive with these gentle giants is possible because a group of up to 100 humpbacks reside in these waters and are frequently spotted by divers, particularly from the end of October to December. Blue Whales can often be seen breaching from the boat.
Dives to new and uncharted sites are made by using a fish finder and dropping divers into large groups of fish. Some of the best coral reefs have been discovered this way.
In their first year of operations, divers had close encounters with large schools of manta rays and mobula rays.
Adventure and surprises are awaiting you on every dive. Great diving spots such as the wreck of the Monassir Fahal and the Iceland can be accessed by liveaboard. One of the highlights for guests is the wreck of the British warship, City of Winchester - the first ship that was sunk during the World War I. The wreck is 150 meters long and in excellent condition. It is a maximum depth of 28 - 30 meters. A must for wreck fans!
MARINE LIFE IN OMAN
Superb diving all year round with an abundance of sea life. Oman diving is comparable to the Red Sea but with out the crowds. The Daymaniyat Islands are a national park and the authorities are keen on protection of there natural beauty and resources. Diving is relatively easy with light surface conditions, zero to mild currents and generally good to excellent visibility. Sea life from Dolphins, whales including 3 different types of Killer Whale to every type of ray there is. The macro lovers will not be disappointed either with numerous nudibranches, unique anemone fish and shrimps. Ultimately though it is the migrating Whale Shark that is top of all our lists and they can be seen here in the summer months.
ITINERARY
The dive safaris run from Saturday to Saturday. The first six nights are spent on board, and the last night is spent at the Marriott Hotel Mirbat. On Saturday afternoon, the ship departs from the port of Mirbat. The tour takes you first along the coast until you reach the village of Hasik where you will begin the crossing to the Hallaniyat islands. The first of the islands is reached after a 3-4 hour crossing. Over the next few days you will explore the dive sites are around the five islands. Three to four dives are scheduled each day and some night dives as well. Disembarkation on Friday afternoon at Mirbat harbour. From there you will be transferred to your hotel for the last night, or on to your next destination in Oman. All local agents are working hard to ensure you a smooth process, please do not expect perfection yet. This is a destination for divers with a thirst for adventure and pioneering spirit.
F.A.Q. REGARDING OMAN LIVEABOARDS
Passport&visas: You should be in possession of a full 10-year passport valid for at least 6 months after completion of your journey. It is your responsibility to ensure that your travel documentation including visas and passport are in order and available in good time before travel. The visa can be obtained on arrival at Seeb International Airport, at sea ports and land borders.
Do people speak English there? Arabic is the official language, but English is widely spoken.
Can I pay by credit card? Credit Cards such as American Express, Visa, Mastercard and Diners Club are widely accepted in shopping areas.
What should I wear? This is a conservative Muslim country so sensitive tourists should avoid shorts, short skirts, tight clothes and tank tops except on a beach. Hair cover is not necessary for women.
What Wetsuit Should I bring? During winter months, the sea temperature drops to 20-25 C° and a 5 mm wetsuit may be necessary. In summer, as the sea temperature rises, a 3 mm wetsuit will suffice.
Will I dive with whales? The best time to dive with Humpback Whales is between November and January.
What is exploration diving? This type of adventure diving takes you to unexplored dive sites. The advantage of this type of diving is that you will visit dive sites that have never been dived before and you can see things that no one else has seen. The disadvantage may be that when exploring new sites, they are not yet mapped, so the presence of marine life may be unpredictable.