SEYCHELLES DIVING HOLIDAYS
Diving Holidays In The Seychelles
The Seychelles are one of the most beautiful island archipelagos on earth. The pace of island life is slow and relaxing, the islands lush and exotic and surrounded by turquoise blue waters, white powder sand beaches and coconut palms. Seychelles's dive sites fall into three distinct regions. The more northerly Inner Islands, including Mahe and Praslin, sit atop a 70m deep plateau. Teeming fish life set against a backdrop of impressively sculptured granite rocks festooned with spongers and soft corals. Mahe's long range' sites include Shark Bank, Brissare Rocks and the wreck of the British Navy tanker Ennerdale, now lying in three parts with her stern & wheel house home to shoals of golden snapper and batfish. To the south east is a low lying chain of coral atolls, the Amirantes. Here you'll find larger fish including sharks, barracuda, rays and groupers. There are caves, swim thoughts and shallow walls, such as The Drop at Desroches, where you will also find the only dive centre. The Outer Atolls lie over 1,000 km from the capital Mahe. Aldabra, the jewel in the crown, is the world's largest atoll with 13 islands populated by giant tortoise. Here drift diving in the channels you might expect to see Green Turtles, Tiger Sharks and Mantas.
Suggested Tour Itineraries In Seychelles
Diving Seychelles
The Republic of Seychelles comprises 115 islands fall under two distinct groups. The tall granite, Inner Islands cluster mainly within the relatively shallow Seychelles' plateau, 4° south of the equator and roughly 1800 km. distant from the east coast of Africa while the low-lying coralline cays, atolls and reef islands of the Outer Islands lie mainly beyond the plateau up to 10° south of the equator.
These Outer Islands are divided into five groups: the Amirantes group lying 230km distant from Mahé, the Southern Coral Group, Alphonse Group, Farquhar Group and finally the Aldabra Group, some 1150km from Mahé. There are 43 Inner Islands in all -- 41 granitic and 2 coralline and a total of 72 coralline Outer Islands.
Diving Seasons In The Seychelles
Diving is possible all year round but is governed by the prevailing winds. Generally speaking, the best conditions for both the Inner and Outer Islands are in the calm periods, April-May and October-November, when the water temperature can rise to 29ºC and offers excellent (up to 30
metres
) visibility. In December and January, the north-west winds blow but conditions remain much the same as in the calm periods, with the exception of greater surface movement and some
localised
turbidity. From May to September the winds are stronger and blow south-easterly. Visibility and temperature may thus drop during August with water temperatures of around 25°C. A wet suit of at least
4mm
is necessary.
Unlike the Inner Islands, some of the more southerly Outer Islands are close to the cyclone belt, and during these months they can experience extremely rough conditions on occasion.
A
4mm
shorty wetsuit is the minimum protection recommended for the Outer Islands. Islands with big drop-offs and walls often have marked thermo-clines with temperatures ranging from 19 to 27ºC and a full suit is an advantage for most divers.
Travel Health For The Seychelles
Ask your travel health expert (e.g. GP, practice nurse or travel clinic) before your trip to provide you with up to date information and vaccines to ensure your travels are safe and enjoyable. It is vital to ensure that all members of your party have adequate health and travel insurance cover, which includes cover for cancellation and any 'higher risk' activities you are likely to take part in.
Seychelles Entry Requirement
Irrespective of the nationality of the visitor and his or her family members, there are NO VISA requirements to enter Seychelles. However, the following documents must be shown in order to obtain immigration clearance at the Seychelles International Airport: a passport valid on the date of entry to and exit from Seychelles, return or onward ticket, proof of accommodation (including contact details) and sufficient funds for the duration of the day.
Holders of a "
Kinderausweis
" issued to German minors (up to and including 15 years of age) may enter Seychelles provided that this travel document contains a photo of the minor concerned.
Presentation of all of the above documents will grant you a Visitor's Permit that will be issued upon arrival by the Seychelles Department of Immigration.
The Visitor's Permit is initially valid for the period of visit of up to one month. It can be extended for a period of up to three months from the date of issue and capable of further extensions for successive periods not exceeding three months at a time to a maximum period of twelve months, provided that the person still meets the criteria of a bona fide visitor.
The visitor's permit is issued free of charge for the first three months after which there is a fee of
SCR5
,000 for extension covering each period of three months or any part thereof.ENTRY REQUIREMENTS
Seychelles Travel Money
The local currency is the Seychelles Rupee (
SCR
) which is divided into 100 cents. Coins come in 5, 10, 25 cents, and 1 and 5 Rupee denominations. Notes come in 10, 25, 50, 100 and 500 Rupee denominations.
Exchange rates are featured on the Central Bank of Seychelles website, in the Nation newspaper and are also available at all banks.
Visitors to the islands are now entitled to make payments for services/products in Seychelles rupees. The discretion to pay in another currency other than the Seychelles rupee shall lay solely with the visitor. Exchange rates will be determined by the market and may differ from bank to bank or at various
bureaux
de change.
Exchanging foreign currency into Seychelles Rupees must only be done at banks, with authorized money dealers such as a bureau de change, or with other licensed operators.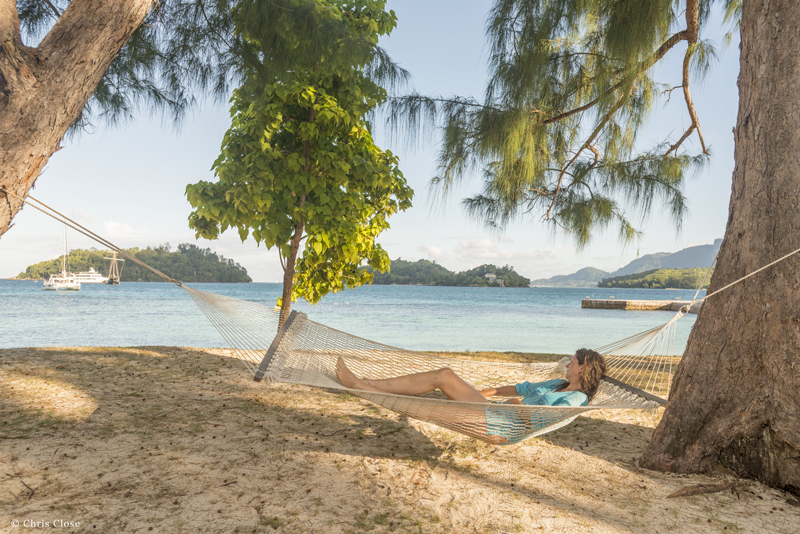 Beginners

Advanced

Technical Diving

Singles

Eating Out

Nightlife

Families

Un-spoilt

Culture

Luxury Hotel

Spa

Multi-sport