INDONESIA DIVING HOLIDAYS
Diving Holidays In Indonesia
Adventure looms large in this vast and steamy archipelago, where the best of Southeast Asia's spicy melange simmers tantalizingly. Heady scents, vivid colours, dramatic vistas and diverse cultures spin and multiply to the point of exhaustion, their potent brew leaving your senses reeling. Indonesia encompasses around 18,000 islands, surrounded by six different seas, which make it the largest and extensive archipelago of the world, with only two-thirds of the islands inhabited and richly layered with character.
From the largest number of towering volcanoes flowing with lava, to massive deepwater oceanic trenches flowing with nutrient rich plankton, the island paradise of Indonesia is perfect for diving, as one of the most geographically and biologically diverse places left on planet earth, both above and especially below the water where there are more opportunities to explore the underwater realm than anywhere else in the world.
Indonesia's southern islands mark the edge of the Pacific Ring of Fire and the country falls completely within the Coral Triangle, the most diverse marine region on the planet. It is this incredible bio-diversity that has established Komodo, Sulawesi, Raja Ampat, and Spice Island as world class diving destinations that offers something special for even the most intrepid of scuba diving enthusiasts, as well as those who want to dive for the first time.
The jungles of Sumatra, Kalimantan and Papua are zoological wonders, revealing impish monkeys, stoic sun bears, leopards, orangutans and remarkable marsupials. As you will see diversity is not confined to Indonesia's world beneath the seas. From peace-loving Bali to the outer riches of Raja Ampat, diving in Indonesia is one of the world's fascinating activities to experience.
Did You Know?
Indonesia is made up of more than 13,000 individual islands and 139 volcanoes, some of which you can climb. The islands are famous for being home to the Komodo Dragon but this unique species is actually only found on five islands. Along with Komodo National Park, Indonesia is home to eight Indonesian World Heritage Sites including the rainforests of Sumatra which are home to orangutans.
Diving Indonesia
There are a variety of dive sites in Indonesia and there are many more still being discovered! Main areas of interest for divers on a liveaboard are Manado, South Sulawesi, Komodo, Flores, Raja Ampat.
Nothern Sulawesi
Right in the heart of the award-winning Bunaken Marine Park the diving here offers beautiful corals, diverse species of fish, amazing small critters. As well as the smaller creatures divers will be treated to seeing larger exciting marine life including reef sharks, turtles and barracudas. Manado is the main point of entry for Bunaken and the Lembeh Straits
South Sulawesi
Sulawesi's south west, around Makassar, offers some fine wreck diving. There are beautiful coral reefs around the rocky island of Selayar and the atolls around Takabonerate.
Komodo National Park
Komodo island is famed throughout the world for its legendary dragons, and all liveaboard trips include going ashore to see these incredible creatures in their natural habitat. But it's not all about monitor lizards. Diving around Komodo means world-class reefs full of colour and life with pinnacles and walls, manta rays and maybe even dolphins and dugongs.
Flores
The coasts of Flores are mostly unexplored and practically all the diving is done on the northern coast because the south coast is very rough. There are two main diving areas - Maumere and Labuan Bajo. Flores is one of the most rugged island of Nusa Tenggara with a collection of 14 active volcanoes. The island is well worth a visit for its nice landscape, the high volcanoes and fine ikat weavings.
The Raja Ampat
Located in Irian Jaya and attracts more than their fair share of praise from experienced divers. Said to be home to the greatest number of fish and coral species anywhere in the world, the beautiful and remote mushroom-shaped islands of Irian Jaya harbour dense schools of fish and countless World War II wrecks.
The waters of the Banda Islands and Ambon promise riches beyond the wildest dreams of many dive destinations worldwide. Big pelagics and large schools of fish abound, and the reefs are healthy and thriving. You will see squadrons of mobula rays, good shark action, and some impressive dog-toothed tuna. The volumes of reef fish in the Banda Sea need to be seen to be believed.
Follow the link for liveaboard diving in Indonesia.
Diving Seasons In Indonesia
Diving in Indonesia is unforgettable, whatever time of the year you visit. The season for scuba diving in Indonesia runs all year round. Overall, the best dive conditions exist from April to December, as many provinces have a rainy season from January to March.
Indonesia has a tropical climate, and divided into wet and dry season. The temperature varies little throughout the year. The average temperature in Jakarta is 26 °C-30 °C with some days getting a bit warmer but temperatures rarely drop below 22 °C. There are however differences in Indonesia between islands and even parts of islands and as Indonesia is pretty mountainous, it can get much cooler once you are ascending.
Generally, the western monsoon brings rains from December to March and the drier eastern monsoon brings relatively dry weather from June to September. Still, heavy rainshowers can occur on every day, but usually don't last longer than an hour in the late afternoon. Some places on Sumatra have extremly wet weather from October to December with 500 mm of rain on average during these months and become drier from January onwards. But during January it can get extremely wet on other islands more east, with Sumbawa hitting a massive 900 mm in this mont! Kalimantan has high rainfall during most months and doesn't have a drier season.
Straddling the equator, Indonesia tends to have a very even climate. High rainfall and tropical heat lend a high humidity and mean that most of the country is covered in tropical rainforest - an area second largest only to Brazil. The wet season runs from October to April, with rain falling in short and sudden downpours interrupted with sunshine. The dry season is from May to September. The water temperatures experience little variation through the year, averaging from 19-30 degrees.
Marine Life Of Indonesia
Prepare to be blown away by this extraordinarily vibrant underwater world. About 4000 different species are found in the Indonesian waters (over 25% of the planet's fish species), in comparison to the 1000 found in the Red Sea or the 400 from the Caribbean.
Apart from this, invertebrates proliferate throughout the hundreds of patch reefs, sheer walls and barrier reefs. Colourful nudibranch, pipe fish and seahorses roam amongst the chrynoids, gorgonias and soft corals, a whole rainbow hue covering the entire extension of the reef walls. Big fish pop up every now and then, offering superb sights of big tunas, shoal of barracudas, manta rays and sharks galore.
There is such a great diversity of species to be seen diving here and it is almost impossible to list them all, but some of the most popular finds include; pygmy sea horses (Bargibanti, Denise & Colemans), ghost pipefish, blue ringed octopus, mandarin fish, frogfish, sea snakes, eagle rays and turtles.
Bali, Indonesia
Bali, Indonesia
Gili Islands And Lombok, Indonesia
Nusa Lembongan, Indonesia
Sulawesi (incl Manado), Indonesia
Papua And Raja Ampat, Indonesia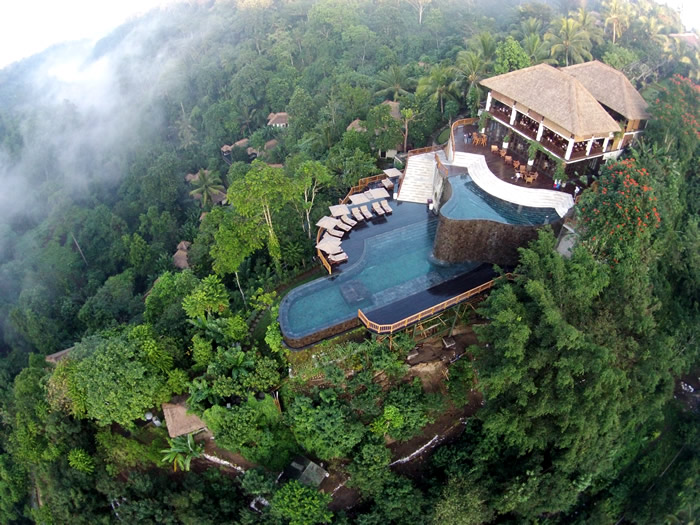 Beginners

Advanced

Technical Diving

Singles

Eating Out

Nightlife

Families

Un-spoilt

Culture

Luxury Hotel

Spa

Multi-sport