CAYMAN ISLANDS DIVING HOLIDAYS
Diving Holidays In The Cayman Islands
The low lying Cayman Islands are the visible peaks of a submarine range rising 7,000 meters from the Cayman trench, the Caribbean's deepest point. Just a short hop from Florida they have a cosmopolitan blend of Caribbean, American and British influences.
The deep waters surrounding the Cayman Islands, plus the lack of rivers flowing out to sea, means water visibility is generally excellent. This factor, combined with Cayman's strict conservation policies, means fringing coral reefs flourish. To dive the Cayman Islands you can take a shorebased holiday on Grand Cayman and time permitting extend your stay with a few nights on Cayman Brac or Little Cayman. Alternatively a Cayman Islands liveaboard safari allows you to dive all 3 Cayman Islands without repacking your gear.
Follow the link for liveaboard diving in Cayman Islands.
Suggested Tour Itineraries In Cayman Islands
Luxury Holidays Cayman Islands
The Cayman Islands are an island group in the Caribbean Sea, ninety miles south of Cuba. The beautiful coral reefs and outstandingly clear waters have made this island group a favorite destination of divers. Great beaches and fine restaurants and resorts make it an excellent tourist destination as well. Quirks aside, the basic charm of the Cayman Islands is quite similair to other Caribbean destinations: beaches, diving, fishing and all the basic water activities. There's trendy hotels, resorts and condos, with enough tourists to match.
Did You Know?
The three islands that make up the Cayman Islands have a combined land area of just 259 square kilometres. The national symbol of this island country is the green sea turtle and the country is famous for being a tax haven. Despite its name, the Cayman Island's Seven Mile Beach is actually only 5.5 miles long.
Diving The Cayman Islands
Cayman diving means crystal clear 80–100 foot visibility on every single dive. The Caymans are world famous for their wall diving. These breathtaking drop offs have tunnels and swim-thrus, starting as shallow as 40 feet. The shallow reef system extends from shore and builds up to meet the edge of the wall. Outstanding conditions abound for newly certified or experienced divers. The marine life that you will see on your dives is nothing short of amazing. It is common to see turtles feeding, sleeping nurse sharks, moray eels, eagle rays, stingrays, lionfish, angelfish, squid, peacock flounders and a plethora of tropical fish on every Cayman scuba diving trip. Unforgettable shallow reefs and wrecks are home to healthy corals and sponges with a vast expanse to explore.
Weather
The Cayman Islands have a perfect climate with warm and humid weather with almost constant sea breezes. Temperatures hoover around 28 °C to 30 °C during the day and 24 °C at night. The months of June to September are slightly warmer. During these months, extending into November is the rainy season on the other hand, with a small chance of a hurricane passing by now and then. December to April is the dry and slightly cooler period which is a good but popular time to visit. May and November are good months to visit if you want to avoid crowds, high prices and very bad weather.
Things To Do In The Cayman Islands
Consider fishing, paddle boarding, or kayaking. For those that feel more adventurous, enjoy jet ski, parasailing, and kiteboarding in clear Caribbean waters, all year-round. And for those looking for the optimal caribbean holidays experience, there's no better way to explore the Cayman Islands than diving and snorkelling. With some of the most exciting dive and snorkelling in the Caribbean, visitors come from all over the world to enjoy diving in the underwater world in the Cayman Islands. Whether you're looking to swim with the beautiful wildlife or explore a sunken ship, Cayman Islands diving is the best in the Caribbean.
Travel Health For The Cayman Islands
Do ask your travel health expert (e.g. GP, practice nurse or travel clinic) to provide you with up to date information and vaccines to ensure your travels are safe and enjoyable.
Cayman Islands Entry Requirments
Visitors who hold UK passports, a non UK passport containing a 'permanent/indefinite leave to remain' visa for the UK, or whose country of nationality is a member of the Commonwealth or the European Union do not require a visitor's visa to enter the Cayman Islands.
Grand Cayman, Cayman Islands
Grand Cayman, Cayman Islands
Cayman Brac, Cayman Islands
Little Cayman, Cayman Islands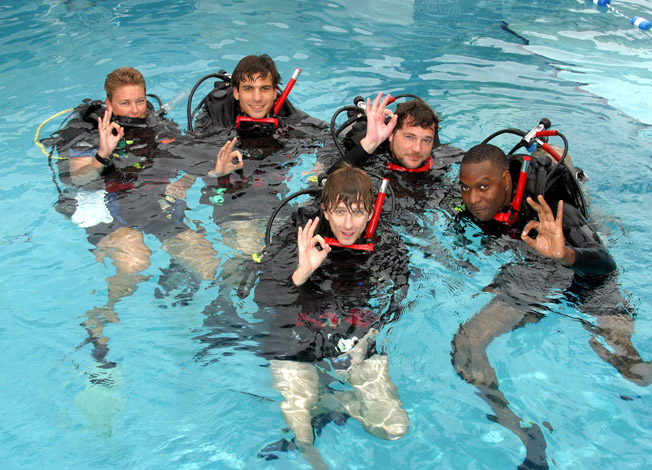 Beginners

Advanced

Technical Diving

Singles

Eating Out

Nightlife

Families

Un-spoilt

Culture

Luxury Hotel

Spa

Multi-sport