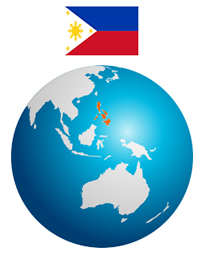 LIVEABOARD HOLIDAYS IN THE PHILIPPINES
Liveaboard diving in the Philippines is the ideal getaway for keen divers, and comes recommended as the perfect choice for diving in one of the world's ultimate hotspots. With a combination of tropical conditions, beautiful scenery and a largely unrivalled underwater wonderland; the haven of the Philippines has long been providing some of the most spectacular and unforgettable diving holidays for a range of skill levels. With more than 36,000km of coastline making it the world's fifth largest; the Philippines are naturally home to some of the ocean's most diverse marine life - and in astonishing proportions too.
Another vital cog in the Coral Triangle, the Philippines is the world's second largest archipelago and consists of 7,000 rainforest covered islands. Although the percentage of land covered in lush greenery has declined over the last couple of decades, the Philippines remain one of the world's most emphatic of life supporting areas, housing one of the largest and most bio-diverse regions on the entire planet. But it is not just the land based creatures that mark out the Philippines as an area of natural beauty, as the life-teeming maritime waters encompass as much as 850,000m²– putting the Philippines right at the top of the world's most attractive and intriguing destinations for diving enthusiasts, and in particular the liveaboard itineraries.
As well as enormous schools of fish and large pelagics roaming the waters of the world's third largest English speaking country, the Philippines are also home to over 25,000m² of coral reefs which house more than 75% of all coral species. Amongst all of this, six of the world's seven species of marine turtles and over 2,200 species of reef fish are also found swimming the crystal clear waters of the South-East-Asian Philippine Archipelago. Conservation International considers the Philippines to be one of "the top priority hotspots for global conservation" as it is one of the few nations in its entirety "both a hot spot and a mega diversity country."
WHY CHOOSE A LIVEABOARD OVER A LAND BASED TOUR?
Philippine Liveaboards remain the best way to experience as many of the mesmeric dive sites as possible, as with more time in the water and greater access to the otherwise unattainable areas – a liveaboard itinerary can offer you far greater value with more bespoke choice. With some of the world's most bio-diverse and life packed waters, the added dive time throughout the day that liveaboards afford allow you to at least get somewhere near appreciating the magical underwater wonderland of the Philippines.
The social aspect of a luxury cruise boat is another benefiting aspect of liveaboards, as the chance to meet new people who share your passion for Philippine diving can provide a lot more than just great conversation and diving hotspot tips...
TOP TIPS FOR DIVING IN THE PHILIPPINES
Visa
The majority of foreign visitors are given a 21 day Visa, but this can be extended. It is advised you seek further clarification – as this can be different across the different islands.
Health Precautions & Jabs
Travel insurance is vital, as most hospitals in the Philippines are private.
Whilst there are no major health risks, it is advised you get your Hepatitis, Typhoid and Malaria jabs prior to leaving.
Philippine Currency
The currency of the Philippines is Peso, however most major credit cards are accepted. There may be up to a 10% charge for using your card here though.
Duty Free
The maximum duty free allowance is 400 cigarettes, 250g of tobacco and two 1 litre bottles of alcohol.
Clothing
Bring light and casual clothing like cotton or linned - but remember that you must cover up in public places. It is also advised to cover up in the evenings to avoid mosquito bites.
Sun Protection
Sun protection is absolutely essential.
Water
It is recommended that you drink bottled water.
Tipping Filipinos
Tipping is customary -10% of the bill is normal.
FREQUENTLY ASKED QUESTIONS REGARDING THE PHILIPPIN
What to Bring for Diving?
It's about what you feel comfortable wearing. Most people wear 3mm – 5mm shorties or full suits and find them just right. The tougher ones maintain they only need a rash vest and shorts and those that feel the cold will claim that hoods are important.
To be honest we would like to ask people to avoid wearing gloves as much as possible as this encourages some to rest their hands on fragile surfaces. However, if you plan to do some wreck diving then you might ask your dive leader if gloves are advisable and we would also recommend that you bring along a full suit for better skin protection.