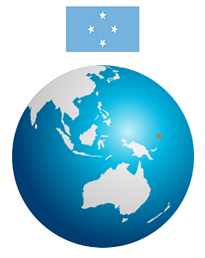 LIVEABOARD HOLIDAYS IN MICRONESIA
Micronesia Liveaboard diving is confined to Chuuk liveaboards, or Truk Liveaboards as they are also known, without doubt the best choice of diving holidays for the wreck-heads out there - as a combination of the ocean's most incredible artillery graveyard along with the added dive time of a luxury cruise boat prove a quite perfect match.
What has so far been the world's biggest naval loss has in fact turned out to be the diving world's gain, as the warm tropical climate and the prolific currents of Truk waters have turned the fascinating wreck yard into a stunning sight for all types of diver. Not just a breath taking treat for the underwater adventures however; these giant vessels adorning the seabed have become a vital part of the local ecosystem, and provide so much to the wonderful range of marine life they attract.
Located between Hawaii and the Philippines, Truk is home to the ocean's largest and most densely packed wreck site collection – proudly displaying an imperious army of the most impressive Japanese wrecks from WWII. Not just armored with their own unique stories and cargos - the dormant fleet of war machinery now houses a fascinating range of marine life that make for some brilliant dives throughout the day and night.
Part of the magnificent eight that form the Islands of Micronesia, Truk is quite rightly considered the world's best wreck site – and is popular enough to be labeled the Mecca for the enthusiasts of type.
Micronesia means "small islands". These beautiful tropical islands are situated 5,150 km west-southwest of Honolulu in the North Pacific Ocean, and about three-quarters of the way between Hawaii and Indonesia. Micronesia is spread over 3 million miles of the Pacific and includes over 2000 islands. The distance from one end of Micronesia to the other is 2,040 nautical miles. The tiny islands of Micronesia are the result of volcanic activity millions of years ago. Some are the tips of huge underwater mountains, some of the atolls are the rims of sunken volcano craters which peak above the water surrounding serene lagoons, and some are combinations of both. The high Islands have dramatic cliff faces which, rise straight from the sea. They are covered in tropical jungle and blessed with sunshine. The beautiful low coral atolls encircle blue-green lagoons and you will discover that these islands are a paradise for diving and fishing. Micronesia is exceptional as it is a pleasant mix of traditional and the new. Micronesians today are maintaining their traditional canoeing skills by recording, preservation and practice.
WHY CHOOSE A LIVEABOARD OVER A LAND BASED TOUR?
A liveaboard holiday in the Truk Islands is considered to offer the best value for keen and slightly more experienced divers, as the luxury cruise ships allow for a much greater amount of time in the water - and at more varied times in the day. With greater access to the hidden gems and most remote sites, you can see much more of the dormant battlefield – and in a 'whole new light' with the many night dives available on our liveaboard itineraries.
The luxury cruise ships are also a very sociable way to dive the waters of Truk, providing a platform to meet new people who are there sharing your passion for diving in 'Chuuk Lagoon'.
DIVING SEASONS IN TRUK
Best Time to Visit: December to April (Dry Season)
Average Temperature: 26˚ to 32˚ C
Water Temperature: 28˚ to 29˚ C
Annual Average Rainfall: 115 inches
Average Visibility: 15 to 40m

Diving in Truk is great all year round and there isn't really a bad time to visit. However, the most popular time amongst divers is during the dry season, between the months of December and April. The Truk Islands experience the greatest rainfall between July and October - during the wet season.
MARINE LIFE IN TRUK
The marine life in Truk is a quite spectacular sight for divers, snorkellers and nature enthusiasts alike. With a vast garden of beautiful corals decorating the haunting resting place – the artillery graveyard is now host to a range of diverse life forms. Although not one of the world's macro-life havens, Truk is still home its fair share of intriguing creatures; including more than 260 species of reef fish, vast numbers of nudibranchs, anemones, porcelain crabs, shrimps, turtles, manta rays and even attracts a few rare visits from reef sharks.
The Earthwatch team also identified the rare coral species Acropora pichoni whilst diving and recording the various species of Truk back in 2007.
BEST DIVE SITES IN TRUK
Considered across the diving world as the best wreck-diving site on the planet, Truk's most impressive dives are scattered all around the fantastic seabed that surrounds the eleven islands. The sheer volume and magnitude in WWII machinery that litters the seabed is astonishing in its own right, but when seen along with the inhabiting creatures in their unorthodox homes... it's really quite easy to see why it is rated so highly.
The entire atoll consists of a protective reef that spans around 140miles², enclosing a natural harbour stretching over 820miles². The most popular dive sites in amongst these fantastic waters are generally considered to be:
Fujikawa Maru
The most well known of the wrecks and thought of as the ambassador; the 7,000tonne Fujikawara Maru in Chuuk Lagoon is a truly breath taking sight. The giant wreck is covered in a lush coral growth along its crossbeams, derricks and mast – which still looms upright. This magnificent wreck supports a whole entourage of species, including: clown fish, lionfish, blennys and many other fascinating creatures. The wreck is still in good condition and the engine room makes for a great exploration for the slightly more experienced divers.
Shinkoku Maru:
The Shinkoku Maru is a 500ft tanker sitting upright on the seabed, providing one of Truk's most picturesque dive spots. The beautiful wreck is the ideal environment for the many corals and tropical marine life species it now inhabits; with lionfish, clownfish, schools of jacks, a few sharks and more than 100 species of anemones. The Shinkoku Maru is one of the most spectacular night dives, and comes very highly recommended on any liveaboard itinerary.
Sankisan Maru:
Down at a depth of around 100ft, the Sankisan Maru is sunken beast that sits upright with a fascinating cargo and some beautiful corals sprawled right around the body of the large freighter. With machine guns, tons of ammunition, trucks, aircraft engines and propellers; the Sankisan Maru is a beautiful sight that attracts a range of tropical fish.
Rio de Janiro Maru
The 463ft wreck of the luxury passenger liner turned cargo vessel Rio de Janiro is a quite spectacular sight, with its deck at 15m and the great condition of its rudders allowing for some perfect photo opportunities.
Yamagiri Maru:
Famous for containing the largest artillery shells ever produced; the Yamagiri Maru is another of the really impressive wrecks worth a dive on your liveaboard holiday. In particular here, the engine room is amazing (if not a little silty!)
TOP TIPS FOR DIVING IN TRUK
Travelling to Truk Islands:
It is a long way to go – but trust us, it is worth it.

Flights depart daily from Heathrow to Manila in the Philippines, from which you can fly to Truk via Guam (Micronesia's hub of continental flights.) It is worth nothing that transit times through Manila and Guam can exceed 12 hours.

Passport Requirements:
You must have a least six months validity on your passport from the date you depart back to the UK. A valid onward air ticket or travel document is an entry requirement.

These regulations are liable to change and it is advised that you check with your appropriate embassy in good time before leaving.

Currency Needed for Truk:
US Dollars, although most international credit cards are fine.

Clothing to Wear on a Truk Liveaboard:
Summer clothes are generally worn throughout the year. However it is advisable to bring a jacket for the evenings as liveaboards tend to have air conditioning in all of the indoor areas.

Health Requirements for Visiting Truk:
Micronesia is malaria free, so there are no mandatory inoculations.

However, it is advised that you bring a medical goody bag of:
- Sun block
- Sun tan lotion
- Insect repellent
- Anti-seasick medicine
- Bandages (some large ones)
- Ear Drops alcohol / vinegar base. (Daily use will prevent outer ear infections.)
- Antibiotic ointment for coral cuts. (See your GP).
F. A. Q.
Which is it - Truk or Chuuk?
The official name since the mid 80s has been 'Chuuk' – which means 'Mountains' or 'Mountainous' in local dialect. During the Japanese era it was changed to 'Truk' but after changing it back to 'Chuuk' - it has retained this name. Divers may still refer to it as 'Truk Lagoon'.

Is Chuuk a safe place to visit?
Yes. There is very little threat in the Federated States of Micronesia.

However, as with many places – there are still some instances of petty crimes against foreigners, such as break-ins and non-violent theft. You are advised to take the necessary precautions with valuables if you depart from the liveaboard onto land.

How many dives can I do in a day?
Truk liveaboards allow up to 4 regular, non-technical dives in a single day. This would include 2 wreck dives in the morning and then 2 more in the afternoon.

Do I need a certificate to dive?
All divers on a Truk liveaboard need a PADI Open Water certificate (or the equivalent).
Although not a requirement, it is advisable to have at least some experience in wreck and deep water diving.